Save energy at home to create a sustainable future
Have you started to save energy at your home?
Saving energy in every living place is the need of the hour to create a sustainable future. Saving energy will also make your home more energy efficient. Two great things will happen when you take a step towards saving energy.
It will conserve natural resources (fossil fuels) from being completely depleted from the earth. By following the different energy conservation methods, we get enough time to completely switch over to renewable energy resources. Energy conservation is the practice of using less energy to save money and your energy bill.
At the same time, installing energy-efficient appliances at home will reduce carbon dioxide and other greenhouse gas emissions into the atmosphere. It will help us to mitigate climate change. An energy-efficient system is a better choice to avoid energy waste.
By reducing energy usage, you could save energy and utility bills at your residence. Saving energy at home will also help us to work towards United Nations – Sustainable Development Goals 7 and 13.
There are different ways to save energy at home. Following are some of the energy-saving tips that can be implemented by anyone to save energy at home.
Use natural daylight
Lighting consumes a large portion of energy expenditures in all residential houses. Daylighting is the process of utilizing the light from the sun. It is a simple logical strategy to save energy at home.
Making the most of the daylight from the sun is highly recommended. While using daylighting, there should be some control over how much light can be allowed to enter.
There are some methods of using daylight. You can open the curtains, windows, and doors in your home, depending on the weather. It is one of the best and easiest ways to light your home with sunlight.
Traditional windows don't give nearly as much natural light as skylights do, so merely one additional skylight can completely fill the space with light.
To prevent the sun's heat from directly entering your home, you can add solar shading devices known as overhangs.
Another method is to use tubular ducts with a steerable mirror to guide the light into the not-reachable areas of your home. With this natural lighting, it is possible to save energy bills at home.
Replace your light with LED lights
Conventional incandescent light bulbs consume more amount of electricity and money. It must be replaced with energy-efficient alternatives such as Halogen incandescent bulbs, compact fluorescent lights (CFLs), and light-emitting diode bulbs (LEDs).
Many houses and buildings are moving towards smart LED lights as they not only look stylish and affordable but are also much more efficient than other lamps.
Compared to conventional lamps, energy star-rated LED lamps save around 80 – 90% of electricity. Though they are a little expensive, they can be used for longer lifetimes.
These energy-efficient LED lights help you to reduce the carbon footprint of your home and also reduce the electric bill.
Turn off appliances when leaving your room
Most of us have the habit of leaving the room without turning off lights and other appliances that are in use.
Remember the situation of watching television at your home. When someone calls you, What will you do? You would simply go outside or to the other room without turning off the lights, fans or coolers, televisions, and so on.
A considerable amount of energy will be wasted by our unconsciousness. Our careless activity would return back to us causing environmental, economic, and health issues.
It would be better to keep a reminder to turn off the lights and appliances when leaving the room until it becomes your habit. By following this habit, you could save energy at home and a good amount of your money.
Unplug devices when not in use
If you take a quick look around your home, you can notice the devices that are plugged into your walls. Even in turn-off conditions, many modern devices still consume energy.
Unplugging these appliances, when not in use is an effective way to save energy. The most important appliances that likely consume more energy are laptops, TV, gaming systems, mobile chargers, kitchen appliances, and lighting fixtures.
Unplugging your appliances will not only save you energy and money, but also protect them from power surges, and rapid fires, and extend the lifetime of the products.
Regular cleaning of AC filters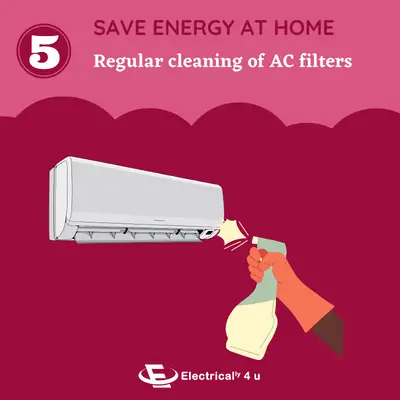 An air conditioning system is an appliance in your house that need filters. After continuous operation, the filters will become clogged and dirty. It reduces the amount of airflow and significantly reduces a system's efficiency.
These filters need to be cleaned or replaced frequently for their efficient operation. You could save electricity and money by doing this in addition to reducing the cost of air conditioning maintenance.
According to a report given by the Department of Energy, replacing the air filters in your home on a regular basis can save energy use by up to 15%.
Run your washing machine only at full load
If you use your washing machine, dishwasher, or dryer with only half a load of laundry or dishes, you are wasting energy.
The machine still uses almost the same amount of water and electricity as like full load, even when it is operated at a small load. Hence, run your machine at full load to save energy.
If there is only one dirty cloth, you can wash it with your hands rather than wasting electricity. Use cold water to wash your clothes.
Wash clothes in cold water is a smart energy-saving tip for your machine. It helps your clothes last longer by protecting dyes and preventing shrinkage.
When drying your clothes, better avoid using a tumble dryer. Although tumble dryers are useful appliances, you shouldn't constantly use them. You can use them during the winter season.
During the summer season, the sun has enough power to dry your clothes. Air dry your clothes outside in warmer weather. This will also save wear and tear on your clothes.
Insulate your walls and roofs
Insulation is a crucial factor in minimizing utility expenses at your home. Insulation reduces the transfer of heat through surfaces like walls, roofs, attics, and ducts.
It conserves the heat during the winter and keeps the heat out of your home during the summer. The advantage of insulating your home reduces the amount of energy needed for heating and cooling.
Depending on where you reside, the "R-value" or level of heat resistance for your insulation varies. The type of insulation to be installed depends on the area of your home.
Your home needs to be properly insulated from the roof all the way to the foundation for maximum energy efficiency. It is better to switch on the programmable thermostat that will adjust the temperature of your home automatically.
Use energy-efficient appliances
Energy efficiency is a method of using less energy to do some work with the aid of innovative technologies.
These days almost all houses are packed with a lot of domestic appliances such as refrigerators, air conditioner, etc. They consume a tremendous amount of energy being the major contributors of poisonous greenhouse gases.
To combat the climate change issues, it is the need of the hour to implement the recent innovations in domestic appliances to save energy at home.
An effective way of saving energy at your home is to use energy-efficient smart appliances. These appliances not only save energy but also protect the environment due to reduced carbon dioxide emissions.
The energy savings in energy-efficient appliances will depend on their usage. If the appliances are not used efficiently, energy consumption will not reduce.
Take short showers
Water is the most important resource on this earth. It is to be conserved for the sustainable development of the earth. It never flows on its own.
You probably use pumps powered by electricity to direct the water to the desired location. So there will be a possibility of wasting more energy when there is a leak or faulty valve.
Taking short showers, using the small amount of water that is necessary while washing, and turning off the taps when not in use are some simple ways to reduce your water usage.
Avoid the usage of a water heater to take a hot water bath. Because water heater consumes more energy
Instead of taking showers, having a good bath with a partially filled tub, uses less water. It saves the energy required to regularly pump the water to the tank.
Store the rainwater underground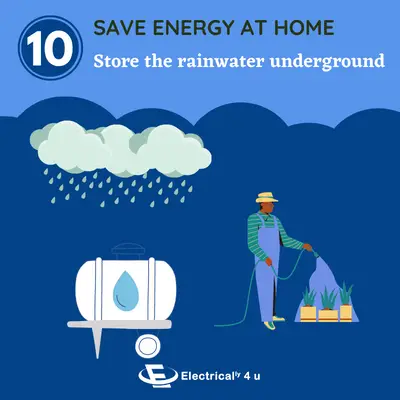 Most of the homes are constructed with beautiful gardens and terrace gardens. For watering the plants, energy is wasted for pumping water and more quantity of fresh water will be wasted.
Rainwater harvesting is the practice of collecting and storing rainwater in tanks or reservoirs. It can be used for various purposes, such as gardening, livestock, and cleaning outdoors. Even it can be used for drinking purposes, after proper water treatment.
Storing rainwater and using it for such applications will reduce the usage of pumping water and greatly save energy.
Switch to renewable resources
Although all the above energy-saving tips help you to conserve energy, switching to renewable energy is the best way to save energy at home.
One of the feasible ways to implement this is to install solar panels on the rooftop of your house. Solar panels will power your home by using the energy from the sun. This process of generating energy from renewable sources is termed clean energy.
Generating energy from renewable sources produces zero greenhouse gas emissions and reduces some types of air pollution. It will make your home more sustainable and ultimately reduce your electricity costs. These are some of the easy ways to save energy at home.
FAQs